How to declutter and organise your wardrobe.
Are you ready to transform your wardrobe into a neat and orderly haven, where you can find the top you want in seconds? Then keep reading to find out how.
What you'll need:
Hangers
Dividers
Boxes
Bin bag
Anti-bacterial spray
Cleaning wipes
Hoover
Method
Take a photo for a satisfying comparison after you're finished and to show off your hard work on social media. Don't forget to tag us!
Decluttering
If you are the type of person who has their clothes spread out in different rooms and different cupboards, bring them all into one place. Now that you have every item in front of you, you can sort them into two piles: clothes you will keep and those you will throw/give away. To help you make the right decision, ask yourself these questions:
Does it make me happy?
Do I wear it?
Can I repurpose the material for decoration?
Is it my style?
Is it comfortable, do I enjoy wearing it?
Is it in good condition?
Does it fit?
Choose your wardrobe
It's okay if you don't have one main wardrobe/closet and you have to keep your clothes in different places around your room or home. Just choose what type of clothing will go where and stick with it. Think about practicality when you make your decisions.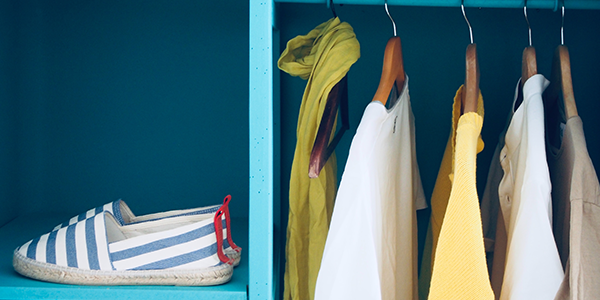 Clean
Before you place your clothes inside your wardrobe, it is wise to make sure it is clean so you can keep your clothes pristine. It's as simple as wiping down the shelving, dusting, hoovering, and polishing the railings. You can place an unlit scented candle, air freshener or soap wrapped in fabric in the back to keep your clothes smelling clean and fresh.
Visibility
When you organise your wardrobe, make sure you hang or fold your clothes in a way that will make it easy for you to see them. Even though it is a nice surprise to find an item of clothing while rummaging through your wardrobe, it's more time-efficient and simple to keep them in a sensible order.
Organising your clothes into categories and colour order means you can see what you have more easily. You could hang thicker clothes like jackets, blazers and long sleeve shirts on the right, and T-shirts, casual dresses and cocktail dresses on the left. It is a good idea to hang things that crease easily to avoid having to spend ages ironing and pressing them when you decide to wear them. It's also best to use non-slip hangers to keep your clothes from falling off and crumpling up in a pile at the bottom of your wardrobe.
Depending on your preferences, it could be wise to keep items such as sweaters, heavy dresses and jeans folded, to keep them from stretching and losing their shape.
Optimise space
Use the wardrobe doors to your advantage by installing hooks to hang your hats and scarves at eye-level. You can also add inexpensive shelving or use hanging drawers and shoe organisers to make the most of your space.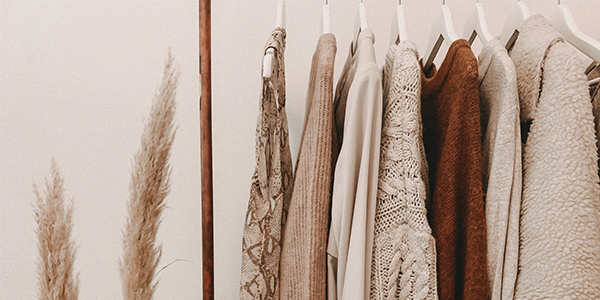 Seasons
If you have a large wardrobe, you can organise your clothes according to the season. However, if you lack the space, you can alternate your clothes according to the changing weather and keep items suited to other seasons in sealed storage bags instead. You can store summer holiday items, such as bikinis, sun hats and floaty summer dresses, in a separate container and pop it out of the way on top of your wardrobe.
Lastly, do quarterly sweeps to update your wardrobe to make sure your fashion game is always on point!